Task Manager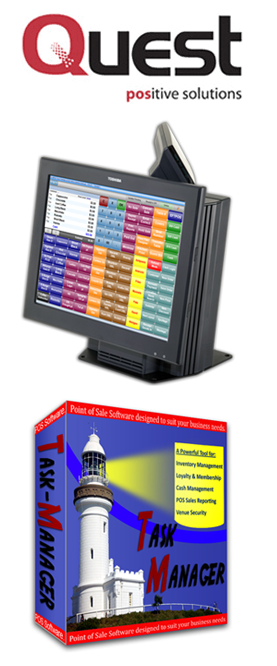 Task Manager is a Microsoft Windows-based stock control, membership and loyalty system that manages the back office functions and links Quest Point of Sale (POS) terminals to create a total POS solution for the hospitality and retail industries.
Task Manager comprises modules so you can select a tailor-made package just right for your requirements, don't pay for features you don't need, or add new modules if your needs change.
A major benefit of the software is tight control over inventory management, cash management and staff costs, allowing you to detect problems such as theft and wastage before they get out of hand. You know your inventory-on-hand right up to the last transaction. You can also keep track of staff time and attendances with the clock-in and clock-out facility, and export the information to your rostering or payroll software.
Task Manager provides comprehensive management of a venue's inventory, membership, loyalty and financial control – and the total system can be centrally managed from one host PC in the back office.
Customer loyalty and rewards programs are easy and efficient, thanks to the Task Manager Membership & Loyalty software module. Loyalty card readers are attached to the POS terminals and easily read member or customer details as purchases are made. Bonus or loyalty points are awarded to the individual member - each time the member's card is scanned, a loyalty points total is visible at POS display.
Task Manager also provides a host of other useful information such as detailed sales reports by product type, department and area, and member reports such as total sales to member, frequency, and time of visits to the club. Such data can be used as a marketing tool to target and manage promotions or to identify areas for improvement in patronage.
Task Manager Software Benefits & Features Include:
Simple operation
Quick and easy data entry
Real time updating of reports for instant business analysis
Constant development of new features
Reference manual and on-line assistance
Print all reports to disc
Custom reports can be created
Change prices easily and update all POS terminals within a few seconds
Weekly specials and automatic happy hours
Price label designer and retail price management
Cash reconciliation for each POS terminal
Staff time and attendance reports
Monitor inventory levels to reduce overstocking, shrinkage and theft
Re-order wizard based on sales history